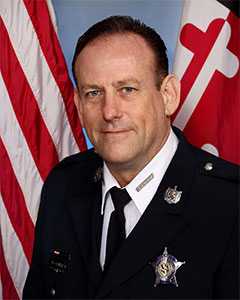 Jeffrey R. Gahler
Sheriff
Sheriff Gahler was elected to the role of Harford County Sheriff in 2014. As the primary law enforcement agency in Harford County and the largest full service Sheriff's Office in the State of Maryland, the Harford County Sheriff's Office is responsible for providing court services, law enforcement, and correctional services to the county's 255,000 residents. Sheriff Gahler leads a workforce of more than 600 sworn and civilian personnel and oversees an annual budget of $76,000,000.
Sheriff Gahler is a North Harford High School and Harford Community College graduate and obtained both his Bachelor of Science and Master of Science degrees in Management from Johns Hopkins University. Sheriff Gahler is a past member of the adjunct faculty within the Public Safety Leadership Program at the Johns Hopkins University and, until his election, served as an operating partner/owner of the Advanced Leadership Consortium, a company committed to providing quality training and consulting services to public safety organizations and private businesses. Sheriff Gahler is also a veteran law enforcement officer, having previously served 28 years during a distinguished career with the Maryland State Police.
As a 41 year resident of Harford County, Sheriff Gahler resides in the Forest Hill Community with his wife, Sonya, and their two daughters, Shelby and Sydney.